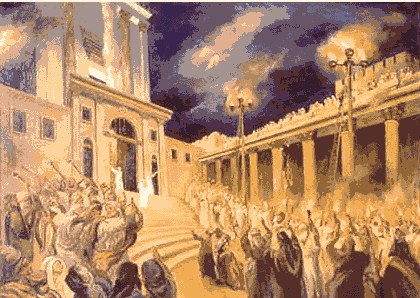 SUKKOT: Yeshua and the Festival of Lights
by
James Scott Trimm

Yeshua said:

I am the light of the world.
He who follows me will not walk in darkness,
but will find for himself the light of life.
(John 8:12 HRV)

The occasion was Sukkot (see Jn. 7:1). Sukkot was known as the "Festival of Light". The entire city of Jerusalem was filled with light from giant 75 feet (50 cubit) tall menorahs. (m.Sukkah 5:2–4; b.Sukkah 52b).

AT THE CONCLUSION OF THE FIRST FESTIVAL DAY OF TABERNACLES THEY DESCENDED TO THE COURT OF THE WOMEN WHERE THEY HAD MADE A GREAT ENACTMENT. THERE WERE THERE GOLDEN CANDLESTICKS WITH FOUR GOLDEN BOWLS ON THE TOP OF EACH OF THEM AND FOUR LADDERS TO EACH, AND FOUR YOUTHS DRAWN FROM THE PRIESTLY STOCK IN WHOSE HANDS WERE HELD JARS OF OIL CONTAINING ONE HUNDRED AND TWENTY LOG WHICH THEY POURED INTO THE BOWLS. FROM THE WORN-OUT DRAWERS AND GIRDLES OF THE PRIESTS THEY MADE WICKS AND WITH THEM THEY KINDLED THE LAMPS; AND THERE WAS NOT A COURTYARD IN JERUSALEM THAT WAS NOT ILLUMINED BY THE LIGHT OF THE PLACE OF THE WATER-DRAWING.
(m.Sukkot 5:2-3)

FOUR LADDERS etc. A Tanna taught, the height of a candlestick was fifty cubits.
(b.Sukkot 52b)

It was for this reason that Sukkot was the original festival of lights.  Channukah became a festival of lights partly because the first Channukah was a belated Sukkot celebration.

With this backdrop Yeshua makes this beautiful proclamation.

Yeshua's statement here may be aimed as Essenes because it draws from the language of certain of the Dead Sea Scrolls which read:

…Thus will grow and understand and be glad
in the light of the world; you will not be a disowned vessel…
(The Words of Levi 4Q541; Frag. 24 line 7)

For only through the spirit pervading God's true society
can there be atonement for a man's ways, all of his iniquities;
thus only can he gaze upon the light of life and be joined
to His truth by His holy spirit, purified through all iniquity. …

He created humankind to rule over the world,
appointing for them two spirits in which to walk
until the time ordained for His visitation.
these are the spirits of truth and falsehood.
Upright character and fate originate with the
Habitation of Light; perverse, with the Fountain of Darkness.
The authority of the Prince of Light
extends to the governance of all righteous people;
therefore, they walk in paths of light.
Correspondingly the authority of the Angel of Darkness
embraces the governance of all wicked people,
so they walk in the paths of darkness.
(Manual of Discipline 1QS col. 3, 6-7; 17-21)

This is a reference to Isaiah 8:20-9:2:

To the Torah and to the testimony;
if they speak not according to this word,
it is because there is no light in them…

…the people who walked in darkness have
seen a great light…

For a deeper understanding of this passage in relation to Yeshua see comments to Matthew 4:14-16. For more comments on "light" see comments to Jn. 1:4

There is a spiritual battle taking place between light and darkness. Paul writes:

…what communion has light with darkness?
And what concord has Messiah with Belial…
(2Cor. 6:14b-15a)

Throughout the New Testament there are extended metaphores revolving around light and darkness. Believers are called "sons of light" (Lk. 16:8; Jn. 12:36; Eph. 5:8; 1Thes. 5:5 see comments to Jn. 12:36). The full armor of Elohim is also called the "armor of light" (Rom. 13:12). The New Testament speaks of those "who walk in darkness" (Jn. 8:12; 12:35; 1Jn. 1:6; 2:11).

But what does this idiomatic use of the terms light and darkness mean? For the answer let us turn to the Tanak:

For the commandment is a lamp;
and the Torah is light…
(Prov. 6:23)

Your word is a lamp to my feet,
and a light to my path.
(Psalm 119:105)

To the Torah and to the testimony;
if they speak not according to this word,
it is because there is no light in them.
(Isaiah 8:20)

…for a Torah shall proceed from me,
and I will make my judgment to rest
for a light of the people.
(Isaiah 51:4)

So according to the Tanak the Torah is a light for our paths. Those that walk in the Torah walk in the light. This is why the New Testament speaks of those who walk in darkness (Jn. 8:12; 12:35; 1Jn. 1:6; 2:11). These are those who do not walk by the light of Torah. Of these John writes:

And if we say that we have fellowship with him,
and walk in darkness,
we are liars and we do not walk in truth.
(1Jn. 1:6)

Notice that John equates "walking in truth" with walking in the light. As we noted previously "the Torah is truth" (Ps. 119:142) thus if "walking in the light" means "walking in truth" then both phrases refer to walking in the Torah. This takes us back to our passages from the Tanak given above. John also confirms this by writing the parallel statements:

…walking in truth.
…walk according to his commandments.
(2Jn. 1:4, 6)

As we have noted Paul also calls the armor of Elohim the "armor of light" (Rom. 13:12). According to Paul we are involved in a spiritual battle with "the rulers of the darkness of this world." (Eph. 6:12) and thus he instructs us to put on this "armor of light" (see comments to Eph. 6:13 & Rom. 13:12)

We are short on groceries, and rent was due on the first
I want to let you all know that my wife Kitty is going to the hospital to have yet another surgery on October 9th. Kitty is normally considered too a high risk for surgery, but she will likely die without this surgery, so there is really no choice. They are hoping that it will be a simple procedure, but with her medical history, things could turn very ugly very quickly.
We really need your help because are going to have about $1,000 in additional medical expenses in the first two weeks of this month.
As many of you know, my wife Inga "Kitty" Trimm has been chronically Ill for several years, and things got much worse about two years ago, when she was hospitalized for over fifty days with septic shock.
We need your support more than ever. The time is short, and there is much work to be done. As you might imagine, donations are low. If you can, please donate. This is no time to pull back from the great work in front of us!
We need your help to continue the ongoing work, bringing the message of Messiah to the Jewish people, and bringing the message of Torah to the world. We need your help with the ongoing work of Scripture Restoration, as restore the original Hebrew of the "New Testament" books, a project which will bless all mankind, especially the Jewish people of Israel.
As you know my wife has never fully recovered from her 53 day hospitalization in late 2018 when she went into septic shock. In addition to other medical problems, she now has two abdominal hernias from six abdominal surgeries since 2015. Due to a condition the surgeons call "hostile abdomen", she is not a candidate for surgery. Hernias do not heal on their own, they get larger but not smaller. Eventually one of these hernias will get large enough to be life threatening, at which time she will be rushed into emergency surgery without very good odds on the table. In the meantime, she now lives every day in pain. Pain from the surgery and from the septic shock that has never been resolved, and more importantly pain from the two hernias which she cannot have repaired. I have been her caregiver since she left the hospital. She has Medicare and Medicare part D, however she is on several expensive medications. This month she hit what they call the "gap" or "donut hole" in her Medicare drug coverage, and her copay for her cost for her expensive medications just skyrocketed! Just one of her medications has gone up to about $200 for a one month supply, we are still suffering sticker shock when we try to refill one of her meds, so I don't know her total monthly drug costs yet, but another is $350 for a three month supply… We are finding ourselves in a position of choosing whether to pay our basic bills and groceries, or pay for her medications. Any donation will help, and any donation is better than no donation.
In these uncertain times, we need your support more than ever. The time is short, and there is much work to be done. As you might imagine, donations are low. If you can, please donate. This is no time to pull back from the great work in front of us!
Help us to continue to do important work, like posting important Hebrew and Aramaic texts at Scripture Nexus
As you know we have been digging ourselves out of a budget shortfall. As I have said to you many times, I look on this work as a co-operative one with me, and all of you combining our resources together in order to get the job done of helping to teach this great truth to all in the world who will listen. Thank you so much from the bottom of my heart for your continued support, you are the ones who make it all possible by your contributions and your prayers for our work. I truly appreciate your help in every way.
If you can make a one time donation of $500 or $1,000 dollars to support this work.

Donations can be sent by paypal to donations@wnae.org.

Donations can also be made out to "Nazarene Judaism" and sent to:

Nazarene Judaism
PO Box 471
Hurst, TX 76053