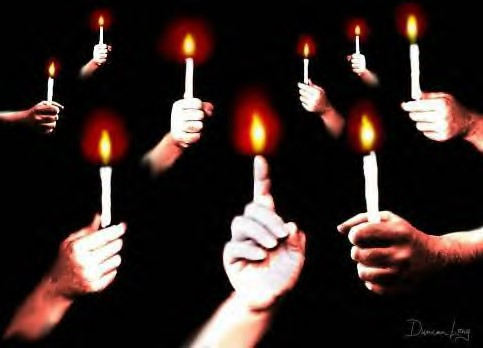 In the Vespers of Channukah
By
Robert O. Miller
Since Chanukah I received a lot of correspondence for and against the observation of Chanukah. The greatest objection to this Holy Day seems to be an erroneous connection with the pagan Feast of Saternalia.
The Saturnalia was originally celebrated in Ancient Rome for only a day, but it was so popular it soon lasted a week, despite Augustus' efforts to reduce it to three days, and Caligula's, to five. Like our Christmas, this important holy day (feriae publicae) was for more than fun and games. Saturnalia was a time to honor the god of sowing, Saturn. Saturnalia commemorated the dedication of the temple of the god Saturn, which took place on 17 December to 23 December. Seven days not eight. The Saturnalia was the most popular holiday of the Roman year. It involved a couched throne (lectisternium) for Saturn to recline on being set out in front of the temple of Saturn and the untying of the ropes that bound the idol of Saturn during the rest of the year. The Simulacrum Saturni or Image of Saturn depicted an old, dignified but jovial man; his usual attribute is the sickle. When gathering, worshippers greeted each other with "Yo Saturnalia!"
Besides the public rites there were special home holiday customs celebrated by the Romans such as decorating outdoor trees with sun and star symbols, and using swathes of greenery over doorways, windows, and on people. But the decorations were secondary to the revelry, feasting, drinking, merry-making, pranks, and gift-giving of Saturnalia. The celebrations included a school holiday, the making and giving of small presents (saturnalia et sigillaricia) and a special market (sigillaria). Gambling was allowed for all, even slaves. In fact Slaves were permitted to use dice and did not have to work. Petronius speaks of an impudent slave being asked at some other time of the year whether it was December yet.
It was an opportunity for everyone to be completely free with themselves, running around naked, sometimes erupting into homosexual and also pedophilic relations. In fact the children were emphasized during this time of year.
According to Aulus Plautius once during the invasion of Britain the Roman Army refused to fight "indignant at the thought of carrying on a campaign outside the limits of the known world." Only when they were entreated by a former slave dispatched by Claudius did they relent, shouting "Yo, Saturnalia" (LX.19.3).
In the Saturnalia, Lucian relates that "During My week the serious is barred; no business allowed. Drinking, noise and games and dice, appointing of kings and feasting of slaves, singing naked, clapping of frenzied hands, an occasional ducking of corked faces in icy water—such are the functions over which I preside."
Seneca the Younger wrote about Rome during Saturnalia around 50 CE:
"It is now the month of December, when the greatest part of the city is in a bustle. Loose reins are given to public dissipation; everywhere you may hear the sound of great preparations, as if there were some real difference between the days devoted to Saturn and those for transacting business….Were you here, I would willingly confer with you as to the plan of our conduct; whether we should eve in our usual way, or, to avoid singularity, both take a better supper and throw off the toga." Seneca complains that the "whole mob has let itself go in pleasures" (Epistles, XVIII.3).
By the end of the first century CE, Statius lamented: "For how many years shall this festival abide! Never shall age destroy so holy a day! While the hills of Latium remain and father Tiber, while thy Rome stands and the Capitol thou hast restored to the world, it shall continue" (Silvae, I.6.98ff). And though its face keeps changing from the celebrated Brumalia (from bruma, winter solstice – December 21st) down to the Christian era, when, by the middle of the fourth century CE, its rituals had become absorbed in the celebration of Christmas on December 25th.
However, the Jews refused to participate in this festival. Pliny the Younger writes when visiting some Romans during this time that he retired to his room while the rest of the household celebrated (Epistles, II.17.24).
Obviously, it is Christmas that's associated with Saturnalia not Chanukah. Chanukah is the rededication of the Temple at Jerusalem on the 25th of Kislev. The lighting of the Chanukah Menorah is symbolic of the relighting of the Temple Menorah. Why an 8 day celebration? This answer lies in the celebration of the Feast of Tabernacles.
"Yahweh said to Moses, 'Say to the Israelites: "On the fifteenth day of the seventh month Yahweh's Feast of Tabernacles begins, and it lasts for seven days. The first day is a sacred assembly; do no regular work. For seven days present offerings made to Yahweh by fire, and on the eighth day hold a sacred assembly and present an offering made to Yahweh by fire. It is the closing assembly; do no regular work. (Leviticus 23:33-36)"
The Book of 2nd Maccabees says that Chanukah happened because the Jews had not been able to keep Sukkot while hiding in the hills so they celebrated it late and ordered later generations to have an eight day festival at this time.
"The Jews celebrated joyfully for eight days as on Sukkot (the Feast of Tabernacles), remembering how, a little while before, they had spent Sukkot living like wild animals in caves on the mountains. Carrying lulavs – palm, myrtle, willow and citron fruit, they sang hymns of grateful praise to him who had brought about the purification of his own Place. By public edict and decree they prescribed that the whole Jewish nation should celebrate these days every year. Such was the end of Antiochus surnamed Epiphanes. (2 Macabees 10:6-9)"
Once they had control of the Temple Mount, YaHudah who was foremost a Priest said, "Then YaHudah and his brothers said, 'Now that our enemies have been crushed, let us go up to purify the sanctuary and rededicate it.'
… they took uncut stones, according to the law, and built a new altar like the former one. They also repaired the sanctuary and the interior of the Temple and purified the courts. They made new sacred vessels and brought the Menorah, the altar of incense, and the table into the Temple. Then they burned incense on the altar and lighted the lamps on the Menorah, and these illuminated the Temple. They also put loaves on the table and hung up curtains. Thus they finished all the work they had undertaken.
Early in the morning on the twenty-fifth day of the ninth month, that is, the month of Kislev, in the year one hundred and forty-eight, they arose and offered sacrifice according to the law on the new altar of burnt offering that they had made. On the anniversary of the day on which the Gentiles had defiled it, on that very day it was Chanukah – consecrated with songs, harps, flutes, and cymbals.
All the people prostrated themselves and adored and praised Heaven, who had given them success. For eight days they celebrated the dedication of the altar and joyfully offered burnt offerings and sacrifices of deliverance and praise. (1 Maccabee 4:36, 47-56)
Much is made that the miracle of the Menorah is not mentioned in the Books of the Maccabees, however it is documented in the Talmud: "For our Rabbis taught: On the 25th of Kislev begin the days of Chanukah, which are eight, during which lamentation for the dead and fasting are forbidden. For when the Greeks entered the Temple, they defiled all the oils in it, and when the Hasmonean dynasty prevailed against and defeated them, they [the Hasmoneans] searched and found only one cruse of oil which possessed the seal of the High Priest, but which contained sufficient oil for only one day's lighting; yet a miracle occurred there and they lit [the Menorah] for eight days. The following year these days were appointed a Festival with the recitation of praise and thanksgiving…Our Rabbis taught: It is incumbent to place the Chanukah lamp by the door of one's house on the outside; if one dwells in an upper chamber, place it at the window nearest the street. (Babylonian Talmud, Tractate Shabbat, page 21b)"
Others have said that Josephus doesn't mention it. "Judah and his fellow citizens celebrated the festival of the restoration of the sacrifices of the Temple for eight days, and omitted no sort of pleasure, but everyone feasted upon very rich and splendid sacrifices; and they honoured Yahweh, and delighted themselves with psalms of praise and the playing of harps. Indeed, they were so very glad at the revival of their customs and, after so long a time, having unexpectedly regained their right to worship, that they made it a law for their posterity that they should keep a festival celebrating the restoration of their Temple worship for eight days. And from that time to this we celebrate this, which we call the Festival of Lights [phôta], because, I imagine, beyond our hopes this right was brought to light [phanênai], and so this name was placed on the festival. (Antiquities of the Jews 12)" Notice, that although he stresses the military victory and doesn't mention the miracle of the lights He does not refer to the Festival by the name of Chanukah; instead he calls it the Festival of Lights.
During the last week of Messiah YahShua's life on earth he made a triumphant entry into Jerusalem to cleanse the Temple. It is obvious that the people think that he is coming to rededicated and sanctify the Temple. "Then Rebbe YahShua went into the Temple of Yahweh and drove out all those who bought and sold in the Temple, and overturned the tables of the money changers and the seats of those who sold doves. And He said to them, "It is written, "My house shall be called a House of Prayer,'but you have made it a "den of thieves."' Then the blind and the lame came to Him in the Temple, and He healed them. But when the chief priests and scribes saw the wonderful things that He did, and the children crying out in the temple and saying, "Hoshanu ben David!" they were indignant and said to Him, "Do You hear what these are saying?" And Rebbe YahShua said to them, "Yes. Have you never read, "Out of the mouth of babes and nursing infants you have perfected praise'?" (Matthew 21:12-16)"
The Triumphant Entry was the high point of Rebbe YahShua's ministry. This time when He enters everybody knows who he is. The apocalyptic hopes, which had centered on Him, first as a prophet and then as the Prophet-King, burst into an ecstatic welcome as the teeming crowds of Jerusalem hailed Him with the cry, "Hoshanu!" Save Us!
"O Yahweh, save us [Hoshanu]; O Yahweh, grant us success. Blessed is he who comes in the name of Yahweh. From the House of Yahweh we bless you. (Psalms 118:25-26)"
What was the date of Rebbe YahShua's Triumphant Entry? According to the Messianic Accounts, it was at the time of the Feast of Passover so why were the people acting like it is Sukkot – Feast of Tabernacles?
The use of the term "Hoshanu" by the crowd has a special liturgical connection to the Sukkot/Feast of Tabernacles. The people were acknowledging that Yahweh was tabernacling with them in the personage of Immanuel, King Messiah YahShua. The cry was addressed to Yahweh, not to Rebbe YahShua, and meant "Save us, Yahweh, through Your Messiah!" The word "save" is especially associated, throughout the Holy Scriptures, with Yahweh's mercies through anointed Rulers and Freedom Fighters who protected Israel against their enemies. A prayer for such a salvation was offered up during Sukkot and would have been especially fitting as an accompaniment to Rebbe YahShua's Triumphant Entry on a mission of Salvation.
"And they brought the colt to YahShua, and threw their garments on it; and he sat upon it. And many spread their garments on the road, and others spread leafy branches, which they had cut from the fields. And those who went before and those who followed cried out, 'Hoshanu! Blessed is he who comes in the name of Yahweh! Blessed is the kingdom of our father David that is coming! Hoshanu in the highest!' And he entered Jerusalem, and went into the Temple area… (Mark 11:8-11a; (Matthew 21:7-10a; Luke 19:35b-38, 45a))"
This leads us to an even more important point: that Sukkot was in a very special sense a Royal Festival. In general, the Jewish Royal Family had little part to play in the ceremonies of Faith of Yahweh, the exception was Sukkot. During this feast the King actually entered the Temple Court and read aloud the "Parsha Melekim," the portion of Torah relating to the King and His duties.
"When you come to the land which Yahweh your Elohim is giving you, and possess it and dwell in it, and say, "I will set a king over me like all the nations that are around me,'you shall surely set a king over you whom Yahweh your Elohim chooses; one from among your brethren you shall set as king over you; you may not set a foreigner over you, who is not your brother. But he shall not multiply horses for himself, nor cause the people to return to Egypt to multiply horses, for Yahweh has said to you, "You shall not return that way again.' Neither shall he multiply wives for himself, lest his heart turn away; nor shall he greatly multiply silver and gold for himself.
Also it shall be, when he sits on the throne of his kingdom, that he shall write for himself a copy of this law in a book, from the one before the priests, the Levites. And it shall be with him, and he shall read it all the days of his life, that he may learn to fear Yahweh his Elohim and be careful to observe all the words of this law and these statutes, that his heart may not be lifted above his brethren, that he may not turn aside from the commandment to the right hand or to the left, and that he may prolong his days in his kingdom, he and his children in the midst of Israel. (Deuteronomy 17:14-20)"
This reading of the Torah by the King was done every seven years.
He then would enter the Inner Court as King and renew the rite preformed by his great predecessors of the Throne of Israel. This act more than any other would signal his ascension to the throne and his intention to carry out the duties of King & Savior.
As King Messiah YahShua was entering the city He must have had one figure on His mind, namely King Solomon. It was Sukkot that Solomon preformed the Dedication of the Temple offering a long and moving prayer to Yahweh standing on a platform specially built in the Temple Court.
"Yahweh, Elohim of Israel, there is no Elohim in heaven or on earth like You, who keep Your covenant and mercy with Your servants who walk before You with all their hearts. You have kept what You promised Your servant David my father; You have both spoken with Your mouth and fulfilled it with Your hand, as it is this day.Therefore, Yahweh, Elohim of Israel, now keep what You promised Your servant David my father, saying, "You shall not fail to have a man sit before Me on the throne of Israel, only if your sons take heed to their way, that they walk in My law as you have walked before Me.' And now, O Yahweh, Elohim of Israel, let Your word come true, which You have spoken to Your servant David.
But will Elohim indeed dwell with men on the earth? Behold, heaven and the heaven of heavens cannot contain You. How much less this Templewhich I have built!Yet regard the prayer of Your servant and his supplication, O Yahweh, my Elohim, and listen to the cry and the prayer which Your servant is praying before You:that Your eyes may be open toward this Temple day and night, toward the place where You said You would put Your name, that You may hear the prayer which Your servant makes toward this place. And may You hear the supplications of Your servant and of Your people Israel, when they pray toward this place. Hear from heaven Your dwelling place, and when You hear, forgive.
If anyone sins against his neighbor, and is forced to take an oath, and comes and takes an oath before Your altar in this temple, then ear from heaven, and act, and judge Your servants, bringing retribution on the wicked by bringing his way on his own head, and justifying the righteous by giving him according to his righteousness.
Or if Your people Israel are defeated before an enemy because they have sinned against You, and return and confess Your name, and pray and make supplication before You in this Temple,then hear from heaven and forgive the sin of Your people Israel, and bring them back to the land which You gave to them and their fathers.
When the heavens are shut up and there is no rain because they have sinned against You, when they pray toward this place and confess Your name, and turn from their sin because You afflict them, then hear in heaven, and forgive the sin of Your servants, Your people Israel, that You may teach them the good way in which they should walk; and send rain on Your land which You have given to Your people as an inheritance.
When there is famine in the land, pestilence or blight or mildew, locusts or grasshoppers; when their enemies besiege them in the land of their cities; whatever plague or whatever sickness there is; whatever prayer, whatever supplication is made by anyone, or by all Your people Israel, when each one knows his own burden and his own grief, and spreads out his hands to this Temple:then hear from heaven Your dwelling place, and forgive, and give to everyone according to all his ways, whose heart You know (for You alone know the hearts of the sons of men),that they may fear You, to walk in Your ways as long as they live in the land which You gave to our fathers.
Moreover, concerning a foreigner, who is not of Your people Israel, but has come from a far country for the sake of Your great name and Your mighty hand and Your outstretched arm, when they come and pray in this temple;then hear from heaven Your dwelling place, and do according to all for which the foreigner calls to You, that all peoples of the earth may know Your name and fear You, as do Your people Israel, and that they may know that this temple which I have built is called by Your name.
When Your people go out to battle against their enemies, wherever You send them, and when they pray to You toward this city, which You have chosen, and the temple, which I have built for Your name,then hear from heaven their prayer and their supplication, and maintain their cause.
When they sin against You (for there is no one who does not sin), and You become angry with them and deliver them to the enemy, and they take them captive to a land far or near;yet when they come to themselves in the land where they were carried captive, and repent, and make supplication to You in the land of their captivity, saying, "We have sinned, we have done wrong, and have committed wickedness'; and when they return to You with all their heart and with all their soul in the land of their captivity, where they have been carried captive, and pray toward their land which You gave to their fathers, the city which You have chosen, and toward the temple which I have built for Your name: then hear from heaven Your dwelling place their prayer and their supplications, and maintain their cause, and forgive Your people who have sinned against You. Now, my Elohim, I pray, let Your eyes be open and let Your ears be attentive to the prayer made in this place.
Now therefore, arise, O Yahweh, Elohim, to Your resting place, You and the ark of Your strength. Let Your priests, O Yahweh, Elohim, be clothed with salvation, and let Your saints rejoice in goodness. O Yahweh, Elohim, do not turn away the face of Your Anointed; remember the mercies of Your servant David. (Psalm 132:8-10)" (2 Chronicles 6:14-42)"
King Messiah YahShua was at the height of power. Though He had no organized army, just a band of armed Talmidim (disciples); the Jewish masses applauded His every move. The Temple Police who were descendants of Jethro and had no allegiance to any tribe were bound only to the Temple. They would have moved in against a mere commoner. But they recognized Rebbe YahShua as a lawful prince and were powerless to hinder His reforms. If this had been the time, King Messiah YahShua would have appointed a new High Priest (Himself), which as King He was entitled to do.
This was the first thing that YaHudah did after recapturing Jerusalem. The Maccabees founded the Hasmonean royal dynasty and established Jewish independence in the Land of Israel for about one hundred years, from 164 BCE to 63 BCE.
Messiah YahShua did not choose to commemorate the military victory of Chanukah, instead he capitalized on the miracles of the lights.
"Then came the Feast of Chanukah – Dedication or Consecration – at Jerusalem. It was winter, and YahShua was in the Temple area walking in Solomon's Porch. The Jews gathered around him, saying, 'How long will you keep us in suspense? If you are the Messiah,tell us plainly.'
YahShua answered, 'I did tell you, but you do not believe. The miracles I do in my Father's name speak for me, but you do not believe because you are not my sheep. My sheep listen to my voice; I know them, and they follow me. I give them eternal life, and they shall never perish; no one can snatch them out of my hand. My Father, who has given them to me, is greater than all; no one can snatch them out of my Father's hand. I and the Father are one.'
Again the Jews picked up stones to stone him, but YahShua said to them, 'I have shown you many great miracles from the Father. For which of these do you stone me?'
'We are not stoning you for any of these,' replied the Jews, 'but for blasphemy, because you, a mere man, claim to be Elohim.'
YahShua answered them, 'Is it not written in your Torah, "I have said you are gods?" (Psalm 82:6) If he called them "elohim," to whom the Word of Elohim came—and the Scripture cannot be broken— what about the one whom the Father set apart as his very own and sent into the world? Why then do you accuse me of blasphemy because I said, "I am Yahweh's Son?" Do not believe me unless I do what my Father does. But if I do it, even though you do not believe me, believe the miracles that you may know and understand that the Father is in me, and I in the Father.' Again they tried to seize him, but he escaped their grasp.
Then YahShua went back across the Jordan to the place where Yochannan had been immersing in the early days. Here he stayed and many people came to him. They said, 'Though Yochannan never performed a miraculous sign, all that Yochannan said about this man was true.' And in that place many believed in YahShua. (John 10:22-42)"
"Now a certain man was sick, Lazarus of Bethany, the town of Miriam and her sister Martha. It was that Miriam who anointed the King with fragrant oil and wiped His feet with her hair, whose brother Lazarus was sick. Therefore the sisters sent to Him, saying, 'Sovereign, behold, he whom You love is sick.'
When YahShua heard that, He said, 'This sickness is not unto death, but for the glory of Yahweh, that the Son of Yahweh may be glorified through it.'
Now YahShua loved Martha and her sister and Lazarus. So, when He heard that he was sick, He stayed two more days in the place where He was.' Then after this He said to the disciples, "Let us go to Judea again.'
The disciples said to Him, 'Rabbi, lately the Jews sought to stone You, and are You going there again?'
YahShua answered, 'Are there not twelve hours in the day? If anyone walks in the day, he does not stumble, because he sees the Light of this World. But if one walks in the night, he stumbles, because the light is not in him.' These things He said, and after that He said to them, 'Our friend Lazarus sleeps, but I go that I may wake him up.' (John 11:1-11)"
Rabbi Sha'ul says, "Follow my example, as I follow the example of Messiah. (1 Corinthians 11:1)" It was the Messiah's custom to celebrate Chanukah by capitalizing on the miracle of the lights, proclaiming Himself to be the Divine Light of the World. He in turn has ignited our lights to be like Him:
"You are the light of the world. A city that is set on a hill cannot be hidden. (Matthew 5:14,15)"
"Arise, shine; for thy light is come, and the glory of Yahweh is risen upon thee. For, behold, the darkness shall cover the earth, and gross darkness the people: but Yahweh shall arise upon thee, and his glory shall be seen upon thee. And the Gentiles shall come to thy light, and kings to the brightness of thy rising. Lift up thine eyes round about, and see: all they gather themselves together, they come to thee: thy sons shall come from far, and thy daughters shall be nursed at thy side. Then thou shalt see, and flow together, and thine heart shall fear, and be enlarged; because the abundance of the sea shall be converted unto thee, the forces of the Gentiles shall come unto thee. (Isaiah 60:1-5)"
And this we shall do throughout our generations.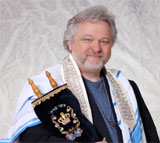 Originally written by Rabbi Robert O. Miller on Dec. 14 2007
(Robert Owen Miller 1957-2021)
Our rent must clear the account tomorrow and we are stll $600 short (12/5/22) plus we need $230 for medication for my wife (that is our cost after insurance) In these uncertain times, we need your support more than ever. The time is short, and there is much work to be done. This is no time to pull back from the great work in front of us!
As I have said to you many times, I look on this work as a co-operative one with me, and all of you combining our resources together in order to get the job done of helping to teach this great truth to all in the world who will listen. Thank you so much from the bottom of my heart for your continued support, you are the ones who make it all possible by your contributions and your prayers for our work. I truly appreciate your help in every way.
If you can make a one time donation of $500 or $1,000 dollars to support this work.

Now is time to step up to the plate!
Donations can be sent by Paypal to donations@wnae.org.

Or click HERE to donate