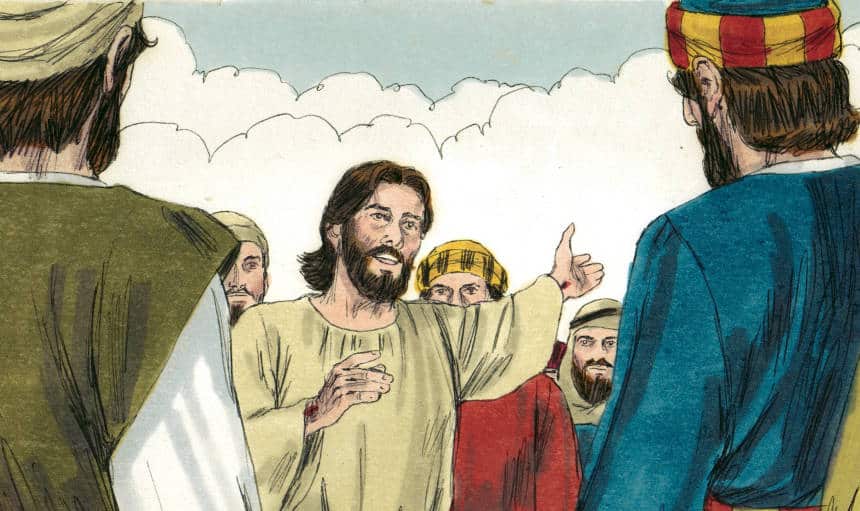 The Laborer is Worthy of His Wage
By
James Scott Trimm

Yeshua sent his twelve out saying:

7 Go, and cry, saying, Turn you, turn you! For the Kingdom of Heaven is offered.
8 Heal the sick, raise the dead, cleanse the lepers, and cast out shadim. Fornothing, you have received; for nothing, you will give.
9 Provide neither gold, nor silver, nor lesser coin in your belts.
10 Pack not for the journey, either two coats, or sandals, or a staff: for the laborer is worthy of his food.
11 And into whatever city or town you will enter, inquire who in it is honorable:and there abide until you go out from there.
(Matthew 10:7-11 HRV)

Sadly for years the phrase "for nothing you have received, for nothing you will give." (Matt. 10:8) has been quoted out of context and misused by many to "prove" that those in the ministry should not receive community support for our efforts.

In fact the verse in question is, in context, saying exactly the opposite of what these people represent it as saying.

Actually, Yeshua in the next few verses following this statement instructs his talmidim to request and subsist on community support:

Provide neither gold, nor silver, nor lesser coin in your belts. Pack not for the journey, either two coats, or sandals, or a staff, for the laborer is worthy of his food. And into whatever city or town you will enter, enquire who in it is honorable, and there abide until you go out from there."
(Mt. 10:9-11)

Some light on this text may be acquired by examining a statement by Josephus concerning the first century Essene sect of Judaism:

…and if any of their sect come from other places, what they have lies open for them, just as if it were their own; and they go into such as they never knew before, as if they had been ever so long acquainted with them. For which reason they carry nothing with them when they travel into remote parts, though still they take their weapons with them, for fear of thieves. Accordingly there is, in every city where they live, one appointed particularly to take care of strangers, and provide garments and other necessaries for them.
(Josephus; Wars 2:8:4)

Yeshua's talmidim had for the most part, come from an Essene background. It would appear that they were therefore able to travel within Essene circles from town to town without having to carry additional supplies. Yeshua felt that his twelve were entitled to be supported by the community, driving his point home by saying "the laborer is worthy of his food." (Mt. 10:10)


Those Who Labor in the Word

Paul later cites Yeshua's statement to prove that "those who labor in the word and its teaching" are worthy of "double honor" which in context means that they have the right, like any other laborer, to expect to be paid for their work in the ministry. Paul writes:

Those elders who conduct themselves well
should be esteemed worthy of double honor,
especially those who labor in the word and
in teaching, For the Scripture says that
`you should not muzzle the ox, while threshing,' (Deut. 25:4)
and `the laborer is worthy of his wage." (Mt. 10:10)
(1Tim. 5:17-18)

Paul also expands on this thought in 1Cor. 9:6-14:

Also, I only, and Bar Nabba, have we not the power not to work?
Who is this who labors in the service (ministry) by the expense of his nefesh?
Or who is he who plants a vineyard and from its fruit does not eat?
Or who is he who tends the flock and from the milk of his flock does not eat?
Do I say these [things] as a son of man?
Behold, the Torah also said these [things]. For it is written in the Torah of Moshe,
`You shall not muzzle the ox that threshes.' (Deut. 25:4)
It is a concern to Eloah about oxen? But, it is known that because of us he
said [it] and because of us it was written, because it is a need [that] the plowman plow unto hope and he who threshes, unto the hope of the harvest. If we have sown spiritual [things] among you, is it a great [thing] if we reap [things] of the flesh from you? those who labor [in] the Beit Kodesh [the Temple] are sustained from the Beit Kodesh and those who labor for the alter have a portion with the alter? So also, our Adon commanded that those who are proclaiming his goodnews should live from his goodnews."
(1Cor. 9:6-14)

Certainly the context of Yeshua's statement "for nothing you have received, for nothing you will give." (Mt. 10:8) was that of a society in which all things were held in common and each person's needs were taken care of by that community (Mt. 10:9-11 and Acts 2:44 & 4:32) but we do not live in such a society, and so citing Mt. 10:8 to those in the ministry today, is akin to asking us to make bricks without straw.

To the contrary Paul quotes the verse shortly afterward (10:10) to reach a principle by which those who are proclaiming his goodnews should be supported for doing so, just as those who labor in the Temple and for the alter are supported for doing so. In other words, Paul draws a midrash from the fact that Levites and Priests received tithes and offerings to teach a principle that "those who labor in the word and teach" should be supported with tithes and offerings.


Those that Oppress the Hireling in His Wages

This brings us to a prophetic rebuke in Malachi which says:

And I will come near to you to judgment; and I will be a swift witness against the sorcerers, and against the adulterers, and against false swearers; and against those that oppress the hireling in his wages, the widow, and the fatherless, and that turn aside the stranger from his right, and fear not Me, says YHWH Tzva'ot.
(Malachi 3:5 HRV)

And how is it that these persons "oppress the hireling in his wages"?

1 Behold, I send My messenger, and he shall clear the way before Me; and the Adon, whom you seek, will suddenly come to His temple, and the messenger of the covenant, whom you delight in, behold, he comes, says YHWH Tzva'ot.
2 But who may abide the day of his coming? And who shall stand when he appears? For he is like a refiner's fire, and like fullers' soap;
3 And he shall sit as a refiner and purifier of silver; and he shall purify the sons of Levi, and purge them as gold and silver; and there shall be they that shall offer unto YHWH offerings in righteousness.
4 Then shall the offering of Y'hudah and Yerushalayim be pleasant unto YHWH, as in the days of old, and as in ancient years.
5 And I will come near to you to judgment; and I will be a swift witness against the sorcerers, and against the adulterers, and against false swearers; and against those that oppress the hireling in his wages, the widow, and the fatherless, and that turn aside the stranger from his right, and fear not Me, says YHWH Tzva'ot.
6 For I YHWH change not; and you, O sons of Ya'akov, are not consumed.
7 From the days of your fathers you have turned aside from My ordinances, and have not kept them. Return unto Me, and I will return unto you, says YHWH Tzva'ot. But you say: 'Wherein shall we return?'
8 Will a man rob Elohim? Yet you rob Me. But you say: 'Wherein have we robbed You?' In tithes and heave-offerings.
9 You are cursed with the curse, yet you rob Me, even this whole nation.
10 Bring you the whole tithe into the store-house, that there may be food in My house, and try Me now herewith, says YHWH Tzva'ot, if I will not open you the windows of heaven, and pour you out a blessing, that there shall be more than sufficiency.
(Malchi 3:1-10)

In a recent blog we discussed how this passage relates to Yeshua's statement "And then will I profess to them, that I know them not Depart from Me, all you workers of Torah-less-ness." (Matt. 7:13-23 HRV) and (in the Judaikon version) "If you are in my bosom and do not the will of my Father which is in heaven, out of my bosom will I cast you away."

Now it is very clear that this is speaking of the last days judgment "And I will come near to you to judgment; and I will be a swift witness" (Mal. 3:5). In this context, YHWH calls the Body to return to keeping Torah, and the Body says "Wherein shall we return" (3:7) in other words "But YHWH, we HAVE been keeping Torah." Then YHWH informs them to their surprise that they have failed to keep his Torah because they have failed to tithe, though they did not even realize that they were not tithing (3:8). The context here is clear, why would YHWH rebuke his last days people for not tithing, if there is not obligation to tithe in these last days?

We also get a reminder here. We do not GIVE the Tithe to YHWH, it was already His. He GIVES the 90% to us. When we do not tithe, we are not simply choosing not to give, we are actually stealing from YHWH!

Tithing is not restricted to the Mosaic covenant. Those who labor in the Word and teach the community, are entitled to be supported by the tithes and offerings of the community. In these last days YHWH says to his people "Return to my Torah". The people say "But we are Torah observant." YHWH responds, "Then why are you stealing from Me?". The people say "what do you mean, stealing from You?" and YHWH says "You have been stealing My tithe".

These are people in the last days who think they are Torah Observant because they have convinced themselves that they do not need to tithe. They are keeping the 612 commandments.

But to the contrary, they are oppressing the laborer in His Word, denying wages to him who is worthy of his wage.


And Pour You Out a Blessing

"Bring you the whole tithe into the store-house, that there may be food in My house, and try Me now herewith, says YHWH Tzva'ot, if I will not open you the windows of heaven, and pour you out a blessing, that there shall be more than sufficiency."
(Mal. 3:10)

We need to get serious. We need to ask themselves if the cost of the covenant is more than they are willing to pay. Others have paid with their lives, just read 2nd and 4th Maccabees. They were tortured and killed..

Yeshua said:

Again, the Kingdom of Heaven is comparable to a man that is a merchant, seeking
good pearls: Who, when he had found one precious pearl, went and sold all that he had and bought it.
(Matt. 13:45-46)

We need to be as serious about tithing as we are about the Sabbath and eating kosher.

Bring you the whole tithe into the store-house,
that there may be food in YHWH's house.
(Mal. 3:10).

In a generous spirit pay homage to YHWH,
Spare not freewill gifts.
With each contribution show a cheerful countenance,
and pay your tithes in a spirit of joy.
(Sira 35:8-9 HRV)

Donations in August have been low! We need your help today!


Do not expect that the established religious denominations are going to be reformed and accomplish this paradigm shift. They are to set in their ways to be of any use to Elohim. To the contrary the established religious leaders are the single greatest deterrent to the promotion of the truth today.

We cannot do this work alone, but if we work together we can accomplish so much. So don't forget to support this work with your contributions, tithes and offerings.

You make this work possible. Please help us bring the message of Torah and Messiah to a lost world and create Scripture study materials for believers.

Now is time to step up to the plate!
Donations can be sent by Paypal to donations@wnae.org.
You can now donate thru PayPal, Zelle or Go Fund Me!
Click HERE to donate