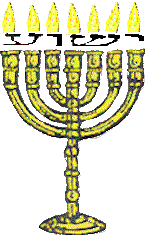 In my last blog, I gave my testimony as to how Elohim spoke to me as a young man and brought me to Messiah, and my calling to restore the ancient sect of Nazarene Judaism, the original Jewish followers of Yeshua as the Messiah. Today I want to tell you a little more about that calling.
I want to share with you all a dream I had in the 1980's not long after I had become a believer in Messiah (I was around 18 years old). I recorded it in a journal I was keeping at the time.
In my dream I was rebuilding the ruins of an ancient stone alter. As I finished rebuilding this alter, it shined with a great light so bright that I could not look directly at it, brighter than the sun. I turned around and saw several shafts of blue light shining down out of heaven. It was shear beauty like I had never seen. Behind me was the Messianic Synagogue I was attending at the time. I ran inside to tell all of my friends in the synagogue about what I had seen, but most of them seemed disinterested, and only a few were willing to come outside and see what I had seen.
The ancient stone alter in ruins was Nazarene Judaism, and "rebuilding" it represented the work of restoration of the House of Judah.

A major prophetic event that the Scriptures state will occur before the return of Messiah, is just about ready to occur, in fact it is happening right now!
… but in the land of their captivities they shall remember themselves. And shall know that I am YHWH their Elohim: for I will give them a heart, and ears to hear: And they shall praise me in the land of their captivity, and think upon my name, And return from their stiff neck, and from their wicked deeds: for they shall remember the way of their fathers, which sinned before YHWH. And I will bring them again into the land which I promised with an oath unto their fathers, Avraham, Yitzchak, and Ya'akov, and they shall be masters of it: and I will increase them, and they shall not be diminished. And I will make an everlasting covenant with them to be their Elohim, and they shall be my people: and I will no more drive my people of Israel out of the
land that I have given them.
(Barukh (Baruch) 2:30-35)
Up until recent times YHWH has been working toward the restoration of the House of Israel (Ephraim). This is typified in the parable of the olive tree, by the grafting of wild branches (Ephraimites) into the cultivated olive tree (Romans 11:16-19).
Now Romans 11 does discuss this stage of the restoration, but it also tells us that an even more powerful stage of the restoration involves Judah being grafted back into its own olive tree:

And if their stumbling became riches for the world, and their loss, riches to the Goyim: how much more therefore, their fullness?
(Rom. 11:12 NHRV)

For if their reprobation was reconciliation to the world, how much more therefore, their return, but life that is from among the dead?
(Rom. 11:15 NHRV)

23 And those, if they do not remain in their lack of trust, also will be grafted in: for Elohim is able to graft them in again.
24 For if you, who are from the olive [tree] that was wild by your nature, were cut off and were grafted–contrary to your nature–into the good olive [tree], how much more then, those, if they be grafted in their natural olive [tree]?
(Rom. 11:23-24 NHRV)

Paul says here: You think the restoration of Ephraim is great, wait until you see the restoration of Judah!

This restoration of Judah has been my calling, not just the grafting in of Ephraim (although that is part of it) but the restoration of the House of Judah, the restoration of the ancient sect of Nazarene Judaism!

I am honored to be able to be partnered with truth seekers as this restoration of Nazarene Judaism moves forward in fulfillment of prophecy.

It is you who make this work possible. I realize that it is not the activity of James Trimm alone (in my quest to teach Torah and Messiah to a lost world with all the vigor and enthusiasm I can muster) who is responsible to do this work, it is all of us together who are charged with the responsibility of accomplishing this work. I very much look on this efforts as a cooperative one with each one of you. We are all joint heirs with Messiah and should always be about our Father's business in teaching the Torah and the Messiah to this lost world.



We Need Your Support!
The last two years have been a real trial for us, and the last few months especially so. As you all probably know, our lives have never been the same since my wife returned home from a nearly two month hospitalization and septic shock in 2018.
We need your help to continue the ongoing work, bringing the message of Messiah to the Jewish people, and bringing the message of Torah to the world. We need your help with the ongoing work of Scripture Restoration, as restore the original Hebrew of the "New Testament" books, a project which will bless all mankind, especially the Jewish people of Israel.
In these uncertain times, we need your support more than ever. The time is short, and there is much work to be done. As you might imagine, donations are low. If you can, please donate. This is no time to pull back from the great work in front of us!
Help us to continue to do important work, like posting important Hebrew and Aramaic texts at Scripture Nexus
As I have said to you many times, I look on this work as a co-operative one with me, and all of you combining our resources together in order to get the job done of helping to teach this great truth to all in the world who will listen. Thank you so much from the bottom of my heart for your continued support, you are the ones who make it all possible by your contributions and your prayers for our work. I truly appreciate your help in every way.
If you can make a one time donation of $500 or $1,000 dollars to support this work.

Donations can be sent by paypal to donations@wnae.org.

Donations can also be made out to "Nazarene Judaism" and sent to:

Nazarene Judaism
PO Box 471; Hurst, TX 76053